Back To:

Home > Support > Get Assistance
E-mail Page | Print Page
Get Assistance



You can request remote assistance and allow a technical support specialist to share control of your computer remotely.

Remote assistance is provided between the hours of 8:00am to 6:00pm ET, Monday through Friday, excluding holidays.

Please note that free technical support is only provided for the products that are offered on this website. For assistance with any other technical support issue, a $49.95 US charge applies per incident.

To request remote assistance from a Technical Support specialist now, click the Get Assistance push-button below.



The following is a brief overview of the steps involved in requesting assistance from our help desk.


Step 1
You are required to click the Get Assistance button shown above. You will then be prompted to confirm installation of the Remote Assistance plug-in on your computer.

You must click Yes in order to request assistance from PlanetDNS Technical Support.

Note that this plug-in consists of a single executable file approximately 350KB in size and is unpacked into a temporary folder automatically. No registry entries or hooks into your browser are created and the files are removed automatically the next time you perform a Disk Cleanup.





Step 2
You must agree to the Terms of Service in order to request Remote Assistance from PlanetDNS Technical Support. When you have read and understood the terms of service as presented and agree with them, click the Yes, I agree with the above stated terms option and press the Next push-button.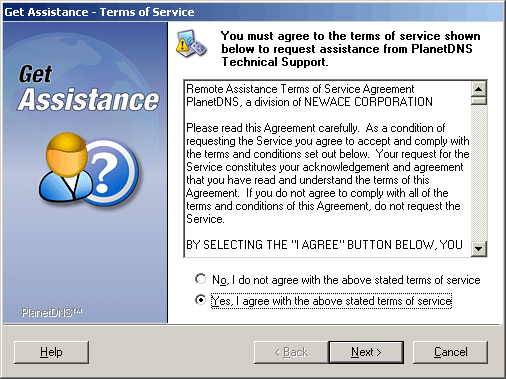 Step 3
Click the Yes, I need assistance now option to confirm your request, then press the Next push-button.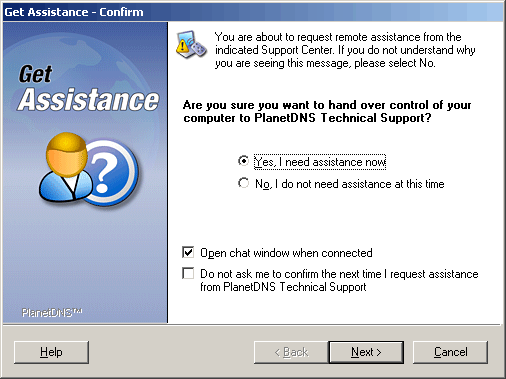 Step 4
Assistance is now being requested. Click Finish when the remote support connection has been established.